Razonde Merge
From Ephinea PSO Wiki
Razonde Merge

ラゾンデマージ

Type

:

Barrier

Requirement

:

Level 20

| | | | |
| --- | --- | --- | --- |
| HUmr | HUnl | HUct | HUcl |
| RAmr | RAml | RAct | RAcl |
| FOmr | FOml | FOnm | FOnl |

Hex

:

010248
Small shield that boosts the power of Razonde.
- In-game description
Razonde Merge is a rare barrier that boosts the damage of Razonde. It is considered to be one of the less desirable Merges in the game since Three Seals offers the same technique boost coupled with better DFP, EVP, and Resists.
| Technique | Boost |
| --- | --- |
| | +30% Damage |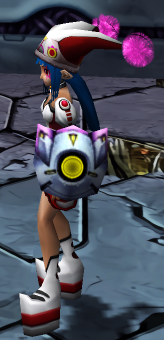 Razonde Merge can be created from using an Amplifier of Razonde with any Yellow Barrier equipped. The Yellow Barrier equipped at the time of use will have its extra DFP/EVP transferred to the resulting Razonde Merge.
This combination can be done on any character that is at least level 20.