Red Ring
From Ephinea PSO Wiki
Red Ring

レッドリング

Type

:

Barrier

Requirement

:

Level 180

| | | | | | |
| --- | --- | --- | --- | --- | --- |
| ATP | DFP | MST | ATA | EVP | LCK |
| 20 | 150-235 | 20 | 20 | 232-257 | 20 |

| | | | |
| --- | --- | --- | --- |
| HUmr | HUnl | HUct | HUcl |
| RAmr | RAml | RAct | RAcl |
| FOmr | FOml | FOnm | FOnl |

Hex

:

010227
Red ring.
It looks like there are a total of 7 colors.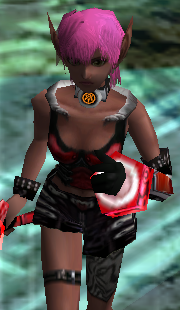 Red Ring is a rare barrier that is considered to be the best barrier in the game. It is equippable by all classes, provides passive HP and TP regeneration and gives a +20 boost to all stats along with a decent set of resists.
It is notorious for being the most difficult barrier to obtain, only dropping from Dark Falz at a low drop rate.
Red Ring has several Ephinea-exclusive cosmetic skins that can be obtained. This renames the Red Ring to Red Ring*. The skin can be removed via using Red Paint, but you will not receive the used ring paint back.